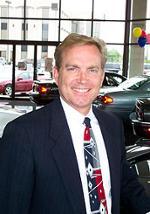 DAVE CROSS MOTORS PROFILE
Dave Cross Buick-GMC is a family oriented business that has been locally owned and operated for three generations in Lee's Summit. Dave Cross is a second generation dealer whose father began the company in 1960. Three of Dave's sons, David, Chad and Matt are active in the business.
"I realize that outside of buying a home, a person's automobile purchase may sometimes be one of the largest investments they will ever make," said Dave Cross, owner. "Here at Dave Cross Motors, we don't take that lightly. I, as well as everyone in the sales department, realize that whether a brand new vehicle or one of our 'superior quality' used vehicles, your purchase is extremely important to you, therefore it should be just as important to us - and it is."
As a young man Dave became involved with the Boy Scouts. Passing that involvement to his sons, they are all Eagle Scouts and members of the Tribe of Mic-O-Say. Dave is a Lee's Summit High School graduate and a University of Missouri Tiger Alumni. He is an active in the Lee's Summit Rotary Club, and he and his wife and their sons are all Paul Harris Fellow Award recipients through Rotary International. David is a past director and past chairman of the Board of Directors for the Lee's Summit Chamber of Commerce.
The support of the public is due largely to the Cross family members' belief in community betterment, especially in the area of youth.
"We are very concerned for the youth in the Lee's Summit community," said Dave.
That statement is strengthened by their level of involvement. Dave Cross Motors previously sponsored the driver's education program for the Lee's Summit School District for more than 30 years. In addition, they sponsor Little League baseball, support Lee's Summit Cares About Kids program, support the local Just Say No program, and contribute to the Lee's Summit Social Services. Dave was a significant contributor and a previous board member of the Lee's Summit Hope House Facility, a program for battered women and their children.
Dave previously served on the Executive Committee and Board of Directors for the Missouri Automobile Dealers Association.
Dave and his wife are active members of the Lee's Summit Community Church.
Awards:
January 2007 - included in the inaugural class of the Lee's Summit Chamber of Commerce Business In Motion….Hall of Fame Award-2006 for exceptional service
2002 - Jonathan T. Kemper Foundation Business of the Year and the Lee's Summit Chamber of Commerce Community Service Award
1989 Small Business of the Year Award - Lee's Summit Chamber of Commerce